TP Shop
Category
TP

| | |
| --- | --- |
| TP | TP are Tree of Savior Points you can use in each server. |
| Obtained Via | TP are obtained by accumulating free TP over time, as event rewards, or by purchasing TP bundles from Steam. |
| TP Merchant | There is one in each city. You can purchase Tokens and other consumable items from them. |
| Token | An item which applies beneficial effects to all the characters in your team. |
(1) What are TP?
TP are points you can use to change your team/character name, purchase TP items, among others.
(2) Obtaining TP
1) Free TP
-You will accumulate 1 TP every 4 hours, even when you aren't logged in.
-TP will only start to accumulate after you have a team created in a server, however.
-Your account will accumulate a total of 5 TP for free.
-After you have accumulated 5 free TP, it will stop accumulating.
-To check how much TP you have, see the lower section of your inventory or your lodge.


2) Purchasing TP
STEP 1 : Selecting and purchasing the product for your regional server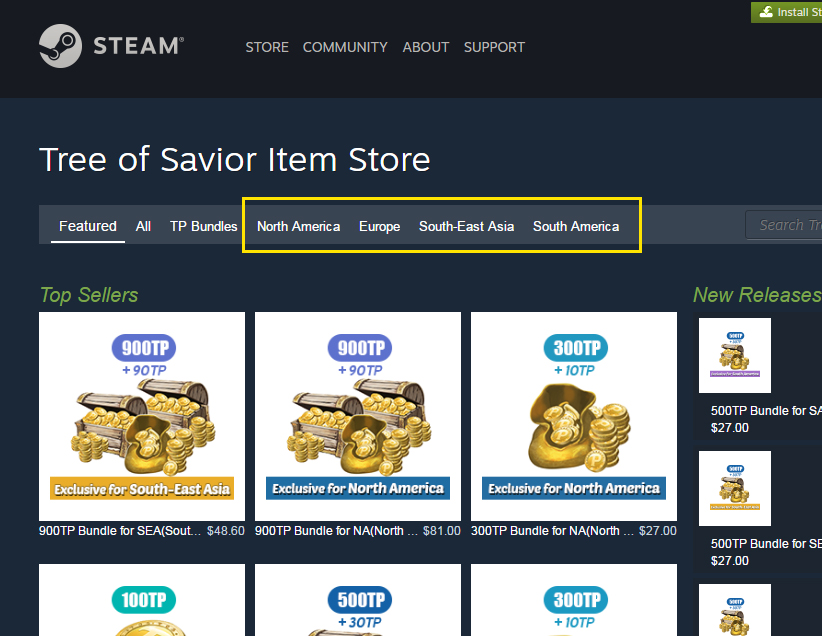 -First of all, you must select and purchase a TP Bundle that is usable on your regional server. For instance, if you play on the NA servers(Klaipeda or Orsha), you should be purchasing one that states 'Exclusive for North America'.

-Please remember that you should be selecting a region that matches the server you play on, not where you are playing from. For instance, if you are playing from the US, but are playing on SEA servers(Telsiai or Varena), you should be purchasing items that read 'Exclusive for South-East Asia'.
STEP 2 : Claiming the TP in-game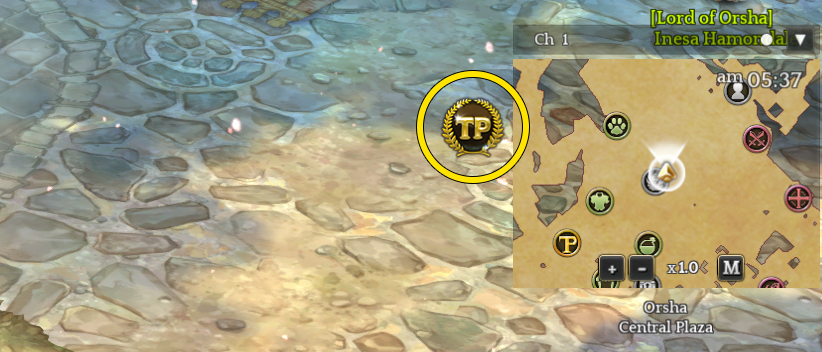 -Now it's time for you to claim the TP that you purchased. DO NOT go looking for it in your mailbox since it will not be there. That is where you get items from DLC products, events or compensation.
-Instead, you should go to the small TP icon next to your minimap. Once you open it, you should see your TP there. If you don't see it appear within 24 hours, please make sure to contact us via the Ticket Support System and we'll be more than happy to help.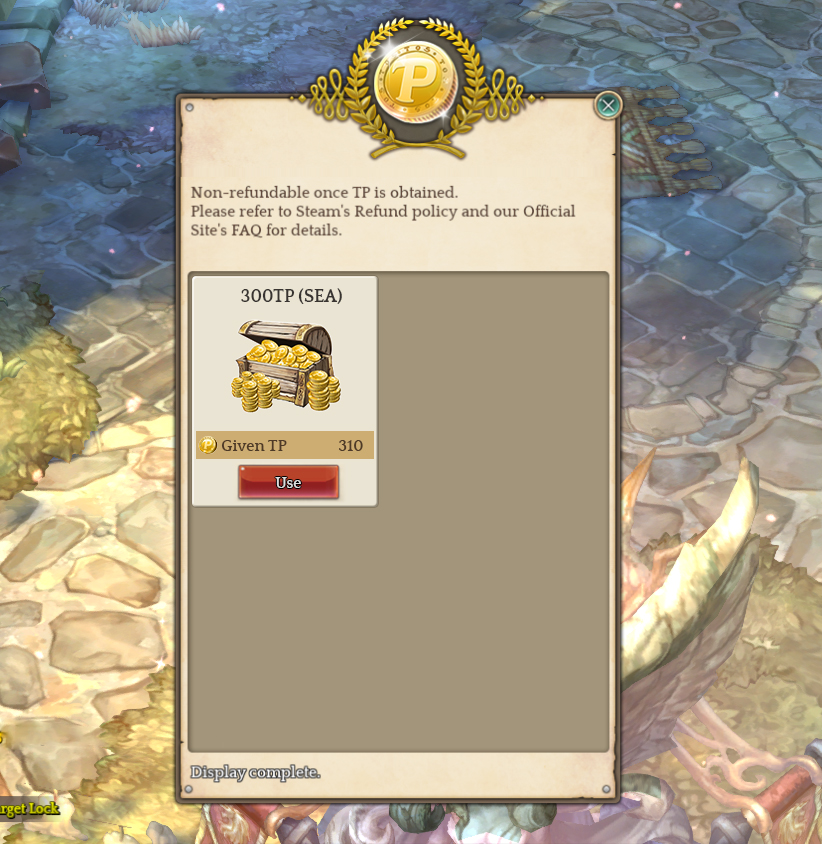 -You will be able to claim your TP once you click on the 'Use' button. Another important thing to note is that you will NOT be getting an item to gain the TP. Your TP will be added to your remaining TP balance automatically.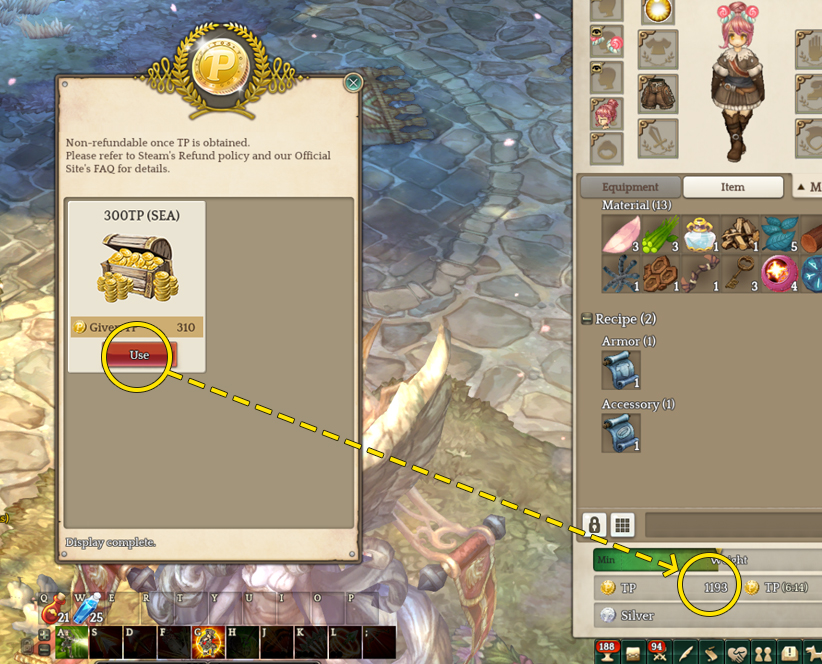 (3) TP Merchant
-Every city as a TP Merchant from whom you can purchase Tokens, premium hairstyles, megaphones and other TP items.
-When browsing premium hairstyles and costumes, you can click the Preview button to see what they look like on your character.
※ The content above is subject to updates and modifications.
Token
-Tokens are items that apply beneficial effects to all your characters in the same server.
-Tokens can be purchased from the TP Merchant NPC in cities (Klaipeda, Orsha, Fedimian).
-Upon using a Token, its effects will be applied to all the characters in your team for 30 days.
-If you have a Token active, an icon will appear in the upper-left corner buff menu.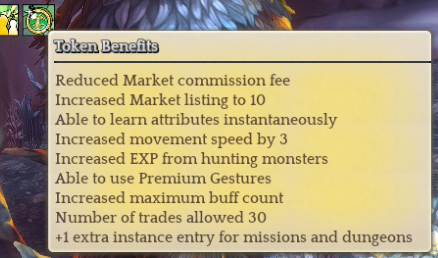 -You can use another Token even if you already have one Token active.
-Using more than one Token at once will multiply its remaining time and trade count, but all other benefits will not stack.
-There is no limit to the number of Tokens you can use at once.
-When you attempt to use another Token, you will see a warning message asking you to confirm whether you want to use it.
▶ Token Benefits
-Increases EXP gains from hunting monsters by 30% (stacks with EXP Tome effetcs).
-Reduces Market commission fee from 30% to 10%.
-Increases the maximum number of items you can list at the Market (from 1 to 10).
-Allows you to learn attributes instantaneously.
-Increases the movement speed of all your characters in the server by 3.
-Allows you to use 18 premium gestures.
-Allows you to use the team storage.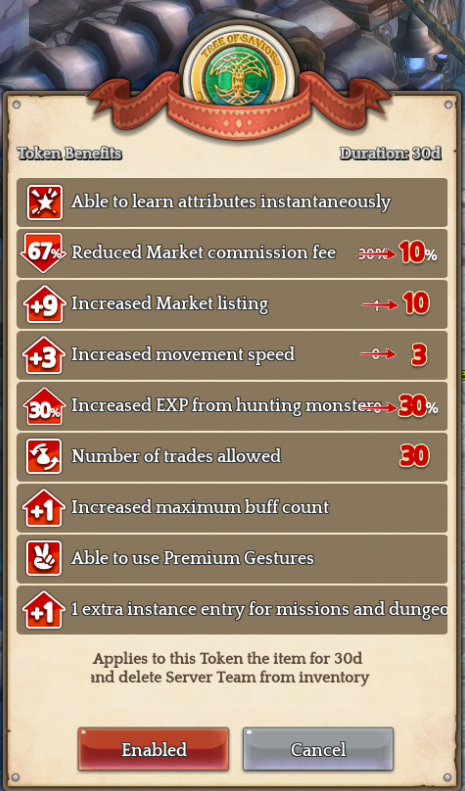 Exchange Shop
-Exchange Shop is a shop where you can purchase items using Exchange Medals.
-You can earn Exchange Medals by exchanging items you've obtained through Goddess' Blessed Cubes.
[Making the Exchange]
1. Purchase a Goddess' Blessed Cube from the TP Shop.
2. Use the Goddess' Blessed Cube to obtain items.
3. Click on the Exchange Shop tab from the TP Shop window.
4. Click on Exchange Items for Medals and choose the items you want to exchange for medals.
[Using Exchange Medals]
1. Click on the Exchange Shop tab from the TP Shop window.
2. Click on Exchange Medals for Items and browse the items that are exchangeable.
3. Click on Purchase to exchange the item you want from the Exchange Shop.