Re:Build - Rank System Changes Pt. 1
By STAFF_Bob
Nov 26th, 2018
Table of Contents
1. Rank System Changes Pt. 1
2. Rank System Changes Pt. 2 (Click here)
3. New Content: Borutas Kapas & Astral Tower Closed Quarters (Click here)
4. FAQ (Click here)
5. Compatibility Issues & Solutions (Click here)
6. FAQ 2 (Click here)
Greetings, Saviors!

Today we would like to continue our dev blog series on the upcoming [Re:Build] update! Here, we will be overviewing the changes made to the game's rank and stat systems. As there is a lot of content to cover, we are breaking this post down into two parts, the second of which you can read here (click to go to the post).

---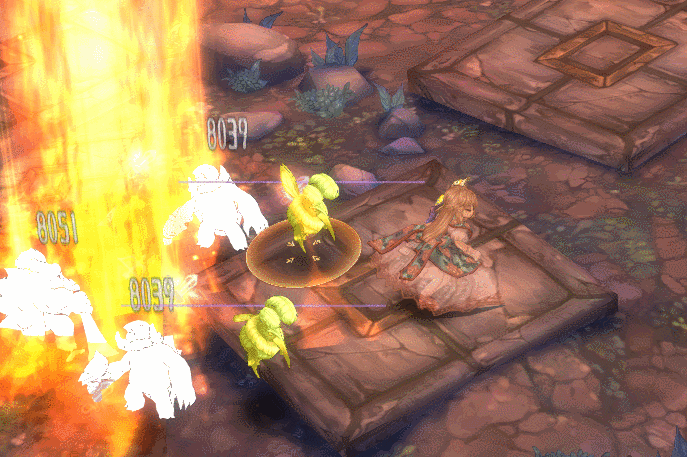 <A player hunting monsters using the new Pyromancer and Warlock skills.>

The New Class Advancement System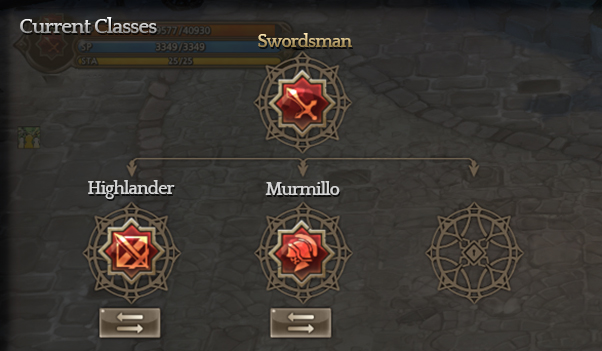 <New class advancement UI.>

The current rank system allows players to pick their classes, each subdivided into three circles, and advance their character in rank by 9 times, reaching the maximum of Rank 10. The new class advancement system allows each character to advance their class three times, but each advancement is equal to reaching Circle 3 of the chosen class on the current rank system. Classes that only have Circle 1 skills (i.e. Shinobi, Rune Caster, Chaplain, Miko, Appraiser and Nak Muay) will have their skill sets expanded with the [Re:Build] update.

In [Re:Build], players are able to choose a total of 4 different classes similar to how they can currently pick one base class and three different Circle 3 classes (total of 10 ranks). As much as it will be difficult for players to become a jack-of-all-trades with the new advancement system, our ultimate goal is to reinforce the strengths and weaknesses unique to each class/build, as well as to enhance party interaction and create synergies between the different builds available in the game.





To adhere to the lore of the game, hidden classes can be chosen starting from the character's second class advancement. This is because the unlocking of hidden classes is closely related to the lore of the game. Hidden class quests require the player to be somewhat knowledgeable about the game world, and Class Masters and quest locations are located in mid- to high-level areas.

Class Level

Maximum class level will be expanded to 45, as one class advancement is equal to advancing 3 Circles in [Re:Build]. However, the maximum class level for base classes such as Swordsman and Wizard will remain at 15, with part of their their current skills either transferred to a different class or removed from the game.

Class Change System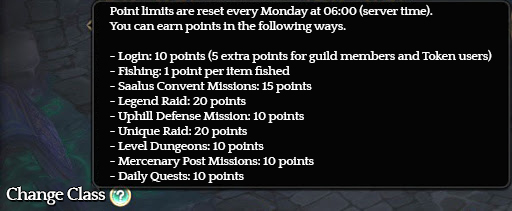 <Points can be earned for Class Change by completing in-game tasks, as shown above.>

Similar to [Rank Reset], a [Class Change] system will be implemented into the game to alleviate some of the difficulties that players may experience in creating their unique character build. Players can earn up to 1,000 points per week and save up to 3,000 points in total by completing various tasks in-game. These points can be consumed for a single Class Change, which costs 1,000 points. Upon Class Change, the players' class attribute points are reset to be spent again on the new class of choice. Existing Rank Reset Vouchers are repurposed as Class Change Vouchers that give players points for class change when used.

Rank 8 Class Prerequisites Removed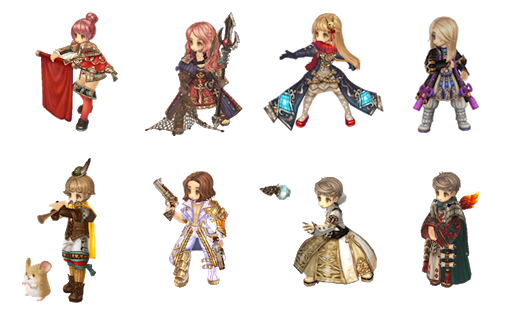 <Rank 8 classes that will no longer have prerequisites for advancement.>

Prerequisites for advancement into Rank 8 classes will be removed, while hidden classes (i.e. Shinobi, Rune Caster, Miko, Appraiser, Nak Muay) will continue to require an unlocking process just as before, with the exception of the Chaplain class, which is no longer a hidden class.

All characters that have already unlocked Rank 8 classes prior to the update will earn a title for each of the Rank 8 classes that have been unlocked. Even after the [Re:Build] update, players can still earn the Rank 8 titles by completing the corresponding class quests.

Rank Reset for All Characters

With [Re:Build], all rank advancements are reset and characters are returned to their base classes. Attribute points are refunded to the player to spend again, and class EXP is also returned to the player as new EXP Cards that correspond to the newly updated system. Characters that have already used Rank Reset Vouchers prior to the [Re:Build] update are also issued new EXP Cards of equal value. The ranks of Templar characters are also reset, as the system will allow for any Templar to reset their ranks, regardless of Guild Master status.

---

New Class Tree and Class Reassignment

Class Tree Reassignment

The [Re:Build] update reassigns the classes from their original class trees in order to reestablish and further solidify the key characteristics that define each class tree. Including the newly introduced Scout class tree, there are 5 class trees in total.

The changes in class tree composition have been made with factors such as the type of weapon used by each class and the class' ability to mount in mind, and with the goal of maximizing the compatibility between the different classes within a single class tree, as well as the synergy between the different players within a single party.



<Names in blue are classes that have been assigned to a new class tree.>

The Swordsman tree consists of classes that utilize bladed melee weapons such as swords, spears and rapiers, as well as classes that are able to combat while mounted on a Companion.

Hackapells originally belonged to the Archer tree due to the historical records that they used both swords and bows. The decision to move this class to the Swordsman tree was made because one-handed swords have become the natural weapon of choice for Hackapell players. The Hackapell class was moved to the Swordsman tree to maintain the overall consistency of the Archer tree at the cost of historical accuracy.

Also, to fit in better with the Swordsman tree, Hackapells become able to equip one-handed swords as their main weapon, and equip daggers and shields in the subweapon slot.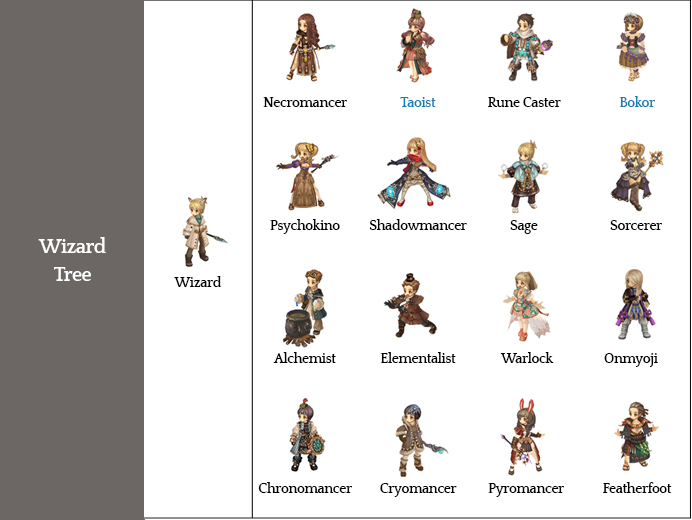 The Wizard tree includes all DPS-focused magic users, summoners and support classes that have spell-related buffs.

The grouping was made with the focus on how different attack spells available within the tree can be combined for maximum synergy, and also on whether a candidate class' skill set consists of offensive, defensive and self-targeting buffs. Following these guidelines, the summon-focused Bokor class and the DPS-focused Taoist classes are being moved to the Wizard tree along with some skill adjustments.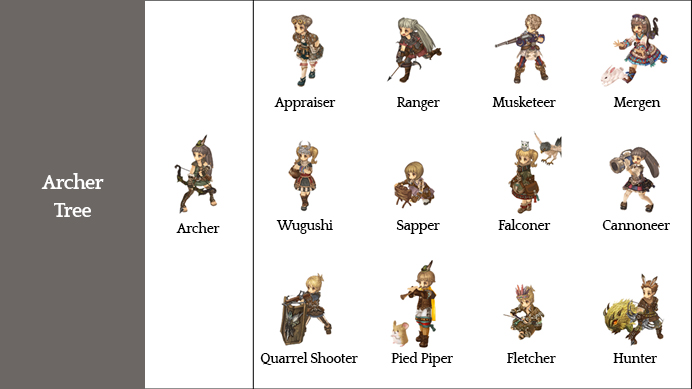 Archer tree classes specialize in ranged attacks and wield bows and crossbows as their main weapons.

Cannons are now two-handed weapons and their attack value is being increased to reflect this change. See the 'Items' section in part 2 of this post for more details on cannon changes. Also, we have a new class that uses muskets and cannons as main weapons planned for reveal in the first half of 2019.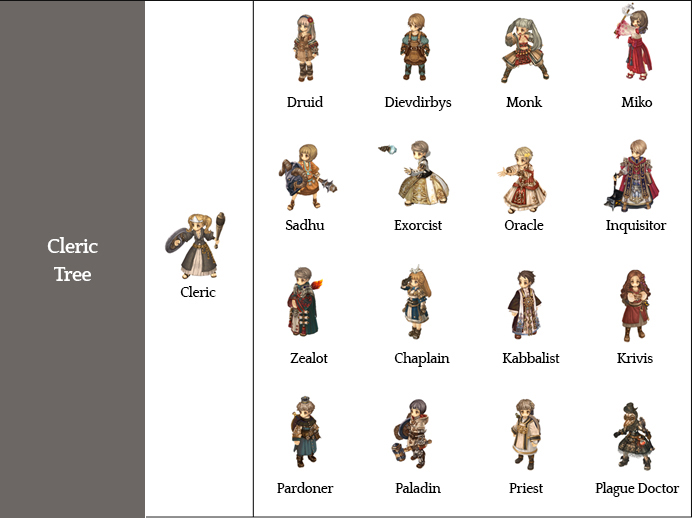 Cleric tree classes specialize in blunt weapons but, like the Wizard tree, they are not heavily restricted by weapon type. As the tree includes many different classes that play the roles of physical and magic DPS, healer and support, the classes within this tree are unified by the theme of being either healers or devotees of different religions within the game world.

New Class Tree: Scout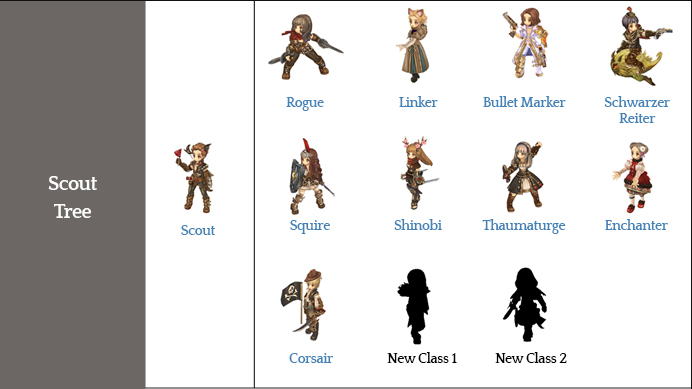 The new Scout tree will include classes from other trees, as well as two brand new classes (Assassin and Outlaw). The classes in the Scout tree are grouped by their main weapons of choice, which are daggers and pistols, and also by the availability of support spells that affect the player's party as a whole.

The key characteristics of support classes within the Scout tree is that they have no affiliation with religion or healing. Hence, the Linker and Thaumaturge classes have been moved to the Scout tree, as their skill set is optimized for party support. Newly introduced classes that major in support roles will be added to either the Cleric or Scout trees in the future.

Another key feature of the Scout class tree is their focus on attack speed. They will be optimized for offensive roles with skills that have shorter animation and casting time in comparison to classes of the other trees.

The Bullet Marker and Schwarzer Reiter classes have been moved to the Scout tree because of their focus on normal attacks, and the Enchanter is also transferred over from the Wizard tree because of its DEX-focused build.

Scout tree classes wield one-handed swords as their main weapon, but most of their skills make use of the daggers and pistols equipped in their subweapon slot.

As is tradition, the name given to each tree is identical to that of the tree's base class. In the case of the new tree, the Scout class was chosen to become the base class with the compatibility with the other classes within the tree in mind.

The base class for the Scout tree needed to be compatible with daggers, pistols and support spells. At first, the Rogue class was considered as the candidate for this tree's base class, but it was ultimately abandoned because of the fact that the Rogue class' skills are based almost exclusively on daggers. As the Scout class did not specialize on any specific weapon and had many skills that were in need of a rework, it was a better choice overall to be elected as the new tree's base class.




[Re:Build] reworks the Weapon Swap attribute in order to increase compatibility between the skills that utilize different types of weapons within a single class tree. The Weapon Swap attribute, formerly obtainable in the player's second rank, will now be a default feature for all characters. Weapons will be swapped automatically upon using two different skills that require different weapons when the two skills are used consecutively, as long as the alternative weapon is registered for Weapon Swap.

With the aforementioned changes, many classes that were formerly neglected will find a place in many players' builds. The Taoist, as an example, was a class typical of this problem and was not fit to be neither a dealer nor a supporter, being used only as a support class in conjunction with the Krivis class skill, Zaibas. The [Re:Build] update moves the Taoist class into the Wizard tree and introduces new Lightning spells for the Taoist so as to repurpose it as a DPS class.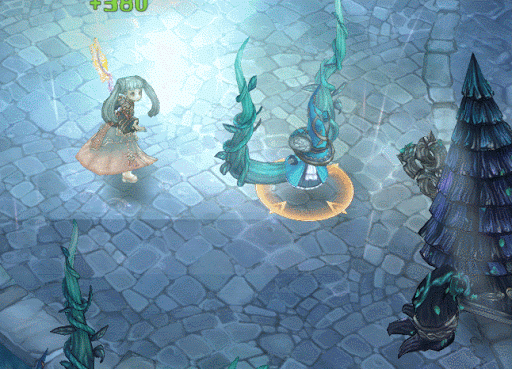 <The Taoist's Storm Calling skill can be used to maximize the efficiency of Electrocute.>

Players will be able to use Quick Cast to overcome long casting times and also make use of Upper Level to reinforce tiled offensive skills such as Flame Ground or Toyou. These are just some of the examples of enhanced class compatibility that can be found in the Wizard tree with the [Re:Build] update.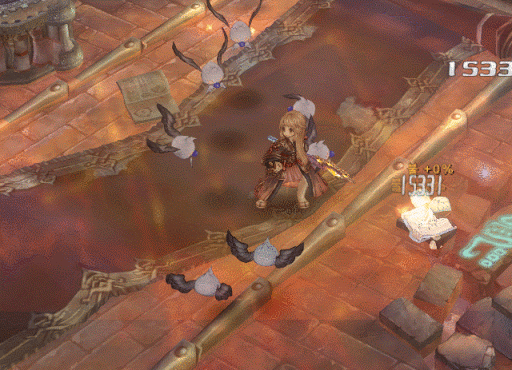 <Players can use Upper Level to reach flying enemies with tile-based skills like Flame Ground.>

The skills of classes that have not changed trees, for example the Hunter, have been adjusted to improve the various aspects of the class. More details on classes and their skills will be revealed through the official patch notes.

Class Stat Specialization
Swordman

Max HP

Max SP

Phys DEF

Mag DEF

Block

HP Recovery

100%

60%

300%

300%

150%

120%

Wizard

Max HP

Max SP

Block Penetration

SP Recovery

65%

100%

150%

120%

Archer

Max HP

Max SP

Accuracy

Move Speed

70%

70%

150%

110%

Cleric

Max HP

Max SP

Phys DEF

Mag DEF

Critical RES

HP Recovery

SP Recovery

80%

80%

150%

150%

150%

120%

120%

Scout

Max HP

Max SP

Dodge

Critical Rate

ATK Speed

75%

60%

150%

150%

110%
Each class tree will have specialized stats, and these stats will increase in proportion to the class tree stat specialization. With specialized stats, classes with similar skill sets will be played differently in combat and require different equipment settings.

Apart from the stat differences as shown above, class trees will differ considerably in terms of skill AoE ratio, range and overheat rates. Along with specialized stats for different class trees, different classes within a tree will also affect character stat growth, which will be explained further in detail in the second part of this announcement.

Class Tree Change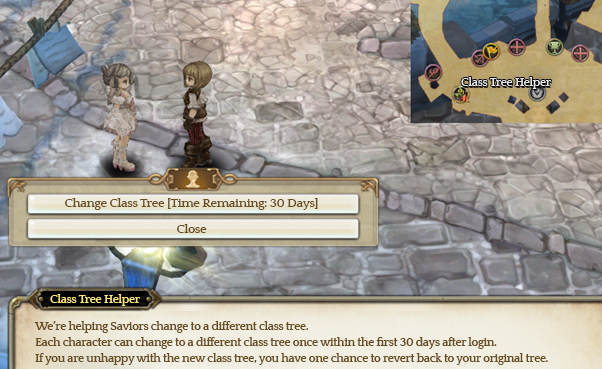 <Players can change their character class tree with the help from the Class Tree Helper NPC.>

We are providing a temporary Class Tree Change for all players in order to give the players the chance to experiment in the event that their favorite class has been removed from the player's current class tree. More information about the Class Tree Change will be detailed in a future announcement.

Templar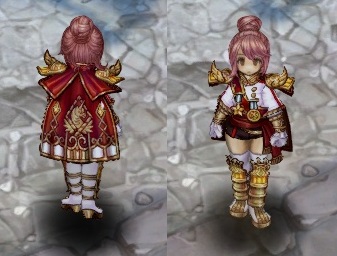 <New Templar costume.>

All guild-related functions are removed from the Templar class. Guild Masters will no longer be required to have a Templar character in order to gain access to guild functions. Templars' skill set is also reworked so that their role becomes more GvG-focused.

---

Skills

With the new horizontally-structured class system in [Re:Build], skill factors are no longer determined by the rank at which the skills are acquired. Skill factor standards after the [Re:Build] update are as follows:
Category

Skill Factor

Class Ranks Removed

The skill factors are now independent of the skill's rank and circle and all skills have consistent skill factors.

AoE / Number of Targets

Skill factor increases with smaller AoE and lower number of targets.

Skill factor decreases with larger AoE and higher number of targets.

Singular / Multiple Hits

The casting time and the number of hits during casting are adjusted, along with new values that determine how the number of hits changes over skill duration.

All skills have a skill factor that fits into a balanced range of DPS.

Overheat / Cooldown Time

Overheat and skill cooldown factors are reworked.

Channeling Spells and Magic Circles

Skill factors will be influenced by aspects such as threat levels while casting, difficulty in casting and maintaining the spell, the duration in which the player is inactive after the spell is cast, etc.

Others

If the skill has crowd control functions, its skill factor will be deduced.

Item consumption will be taken into account on determining skill factor.

The delay time present before and after casting a skill will also influence the skill factor.
Do keep in mind that there are exceptions influenced by factors such as technical difficulties and continuity of the lore where the above rules either don't apply or are applied in a different manner.
| | |
| --- | --- |
| BEFORE | AFTER |
| | |
The overall damage produced by skills is reduced with these changes in skill factor, but the overall HP of monsters have also been decreased to reflect the changes made to the game's balance.

On the other hand, the difficulty of Saalus Convent and Mercenary Post missions will be increased, while the difficulty of Hunting Grounds is lowered in order to match the changes implemented in the [Re:Build] update.

Buff Skills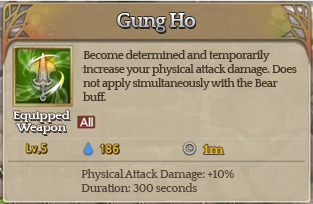 <The Swordsman's Gung Ho skill changes from a fixed-value damage increase to a percentage-based increase.>

Buff skills are being adapted to include new effect factors or ratios. In the current game, fixed-value effects stop many of these skills from performing satisfactorily at later levels, so this change is here to help their buff effects stay relevant even as the character levels up.

Skills Being Added/Deleted and Moved

With the [Re:Build] update, new skills will be added to reinforce the role and characteristics of the different classes and, in return, others will be deleted from the game due to their incompatibility with the class' concept or negative influence on game balance. A new skill, 'Elemental Essence', is a good example of this change, as it emphasizes the Wizard's character role as a master of the elements.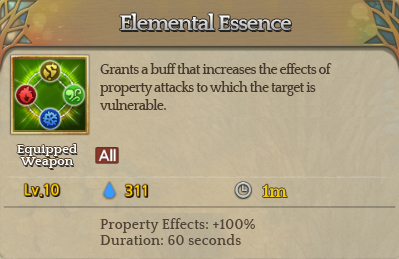 Some skills will also be moved to a different class, again to fit into the target class' role and characteristics.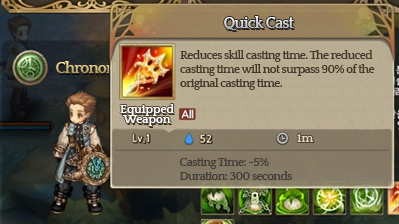 Another example would be 'Quick Cast', a cast time-reducing skill currently in the Wizard class, which aptly becomes a Chronomancer skill after the update.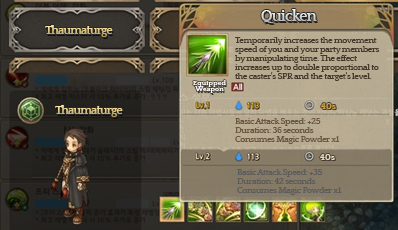 Quicken, a support skill that affects the caster's entire party, is moved from the Chronomancer to the (soon-to-be Scout tree) Thaumaturge class skill repertoire.

A full list of all the skills affected and how they change will be included in the patch notes corresponding to the [Re:Build] update.

Multiple-use Skill Recharges

Skills that can be used more than one time will change the way they recharge after cooldown.
| | |
| --- | --- |
| BEFORE | AFTER |
| +1 use recharged after cooldown | All uses recharged after cooldown |
In the current game, when a player doesn't exhaust all the uses of a multiple-use skill, that skill recharges one use at a time after the cooldown. With the [Re:Build] update, all uses of the skill are recharged simultaneously after cooldown, so there is no need to expend them unnecessarily.

Party Member-Targeting Skills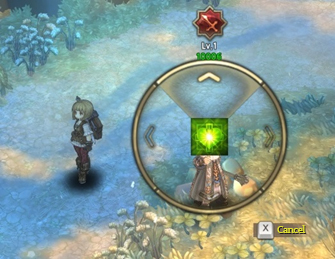 <Players will target specific party members with the 'Heal' skill instead of generating Heal tiles.>

Buff skills applied to a single party member become targetable. Buffs like Healing Factor, for example, require the caster to place the skill tile on the ground for the intended party member to use them in the current game.

With the new targeting function, Plague Doctors are able to cast Healing Factor on the desired party member directly. This feature also allows you to direct buffs towards yourself and avoid having them "stolen" by fellow players.
---

Attributes

Attributes are one of the base systems of TOS combat, one that so far has suffered from excessive costs and enhancement attributes skewed towards dealer classes. We're setting out to solve this by significantly decreasing attribute costs and correcting the most inconvenient and unfair aspects of this system.

Attribute Costs and Buff Enhancements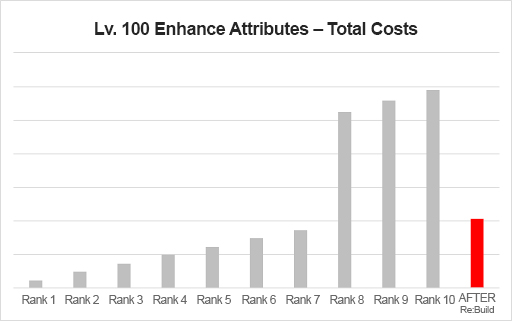 <Graph comparing the accumulated costs of attribute points before and after Re:Build>

Overall enhance attribute costs are readjusted to a standard similar to that of current Rank 7 skills. This change means you can raise two enhance attributes to level 100 with the same number of points used to level one Rank 10 enhance attribute to level 100 in the current game setup.

Other attributes have reduced in cost as well. The overall attribute points spent per character has been decreased but the attribute points for skills below Rank 7 have been raised also. So, depending on the build, the total attribute cost that you may have required could be higher overall.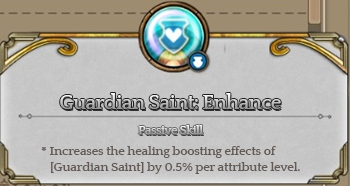 Besides the cost reductions, one important change is the addition of Enhance attributes to buff skills. Important enhancing attributes will no longer be an exclusive feature of attack skills, becoming useful to support classes as well.

With the enhance attributes that are made for buff skills in the Re:Build update, supporters can further increase the effectiveness of their build.

Attribute Point Extraction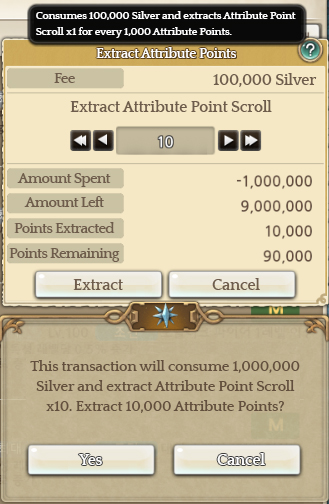 <Attribute point extraction UI. For a given period after the update, all players will be given the one time chance(per character) to extract attribute points without silver costs.>

A new feature is introduced that allows you to extract attribute points from one character in the form of scrolls, then pass them onto another character in your team. This function lets you extract attribute points in batches of 1,000, and it comes with an extraction fee (paid in Silver) equivalent to 10% of their original price. If one attribute point costs 1,000 Silver, that means a fee of 100 Silver per point.

The items extracted cannot be traded to other players 1:1 or via the Market; they can only be transferred to same-team characters through the Team Storage. Also, you can extract only from your total of unused attribute points, not from points already consumed by attributes. Extracting used attribute points is only possible after changing classes or using other functions that automatically reset attribute points.

Armor Mastery Attributes

Armor mastery features assigned to characters are undergoing a few significant changes. Same-type equipment effects will trigger whenever a character equips not 3, but 4 items of the same group. Some effects will be altered, and their values will apply based on the effects of the lowest-grade armor item. For example, if 3 of your armor items are Unique and 1 is Rare, your overall armor grade will be Rare.

Armor mastery effect changes are as follows.
Armor Type

BEFORE

AFTER

Cloth

Magic damage taken -10%

Normal

Magic damage taken -5%

Magic

Magic damage taken -7.5%

Rare

Magic damage taken -10%

Unique

Magic damage taken -12.5%

Legend

Magic damage taken -15%

Leather

Critical rate +50

Accuracy

+50

Normal

Critical chance +4%

Max. critical chance +10%

(all grades)

Magic

Critical chance +8%

Rare

Critical chance +12%

Unique

Critical chance +16%

Legend

Critical chance +20%

Plate

Physical damage taken -10%

Normal

Physical damage taken -5%

Magic

Physical damage taken -7.5%

Rare

Physical damage taken -10%

Unique

Physical damage taken -12.5%

Legend

Physical damage taken -15%
As you can see, Cloth and Plate armor effects remain the same, but apply in different degrees according to item grade. Leather effects, on the other hand, are adjusted to fit into the new critical formulas and add +10% to maximum critical chance limits, increasing the 50% threshold to 60%. Critical chance here corresponds to the actual ratio applied when the character attacks. If you have a 30% chance of critical, for example, that percentage is increased by 20% with Legend-grade armor, becoming 36%.

After the [Re:Build] patch, we plan to introduce new class-specific types of armor mastery, including effects that are relevant to the characteristics of each class. Each type of armor will continue to be compatible with different class trees, namely Plate for Swordsmen, Cloth for Wizards, Leather for Archers and Scouts, and Cloth/Plate for Clerics.

※ Note that the above content is still under development and may be subject to changes before it is finally applied to the game.
---

Head on over to part 2 of this blog post, where we discuss even more details of the [Re:Build] update (click here)!