Weekly Question and Answer – July 15th, 2016
By STAFF_Max
Jul 15th, 2016
When can we expect to have an iTOS event?
We've received many requests and suggestions from the players about iTOS event, so the first iTOS event is under preparation. It will be revealed and applied soon.
We want the buy-back function back.
We realize there's been some demand for buy-back function back among players who sold wrong items unintentionally. As of now, the function has been disabled due to the error of system. We will be turning back, once the system is solved.
The chat UI is quite inconvenient, do you have plans to fix it?
Based on the user complaints regarding the chat system, we have been working on some improvements convenience-wise. The new and improved chat system will show more info in a less obstructive way.
In addition, more options and hotkeys will be able for the chat system.
- Chat Settings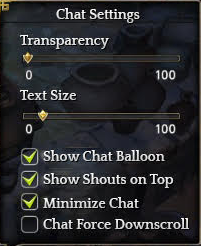 - B
efore & After for Applied Minimize Chat