Beginner's Pack Coming Soon!
By STAFF_Ines
May 13th, 2016
Greetings, Saviors!
We're pleased to announce the release of our new Beginner's Pack, a DLC item bundle especially catered to first-time F2P players.
The Beginner's Pack DLC will be available for purchase on Steam soon (as soon as it is approved by Valve). See the image below for the items contained in the Pack.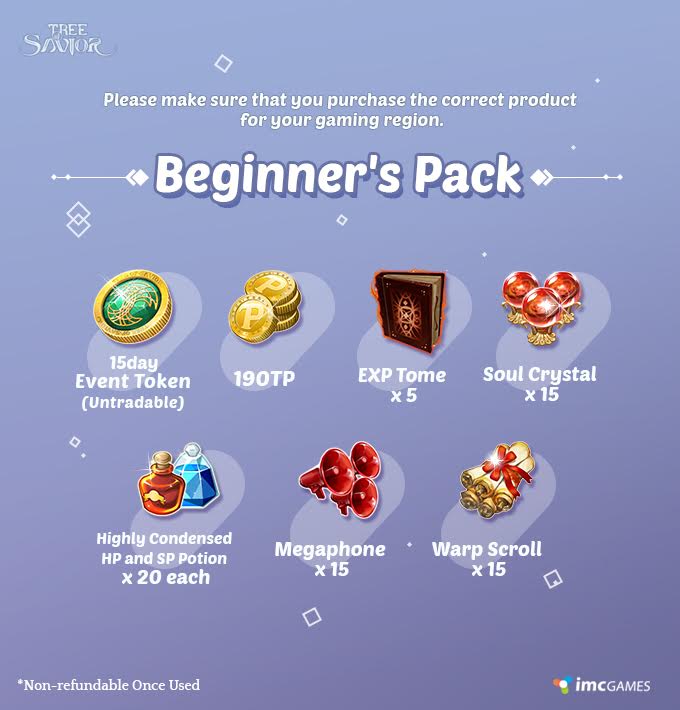 Following the release of the Beginner's Pack, we will be launching a Veteran's Pack, expected to arrive later next week: keep an eye out on for future announcements on our official website.
Finally, make sure you read and understand the following conditions when purchasing the new DLC packs:
Each DLC product will be released in four different versions, one specific to each region (NA, EU, SEA, SA). Each DLC will be redeemable only in its corresponding region (e.g. EU-exclusive DLC can only be redeemed in [EU] Fedimian).
In regions with more than one server, each DLC product can only be redeemed in one of the region's servers (e.g. players in the NA region can purchase a single Beginner's Pack and redeem it in either Klaipeda or Orsha).
Each DLC product can be purchased only once per Steam account.
All DLC products are non-refundable once redeemed in the server.
Sincerely,
IMC Staff