[CLOSED] Returning Player Event: Welcome Back, Savior
By STAFF_Ines
Jun 13th, 2017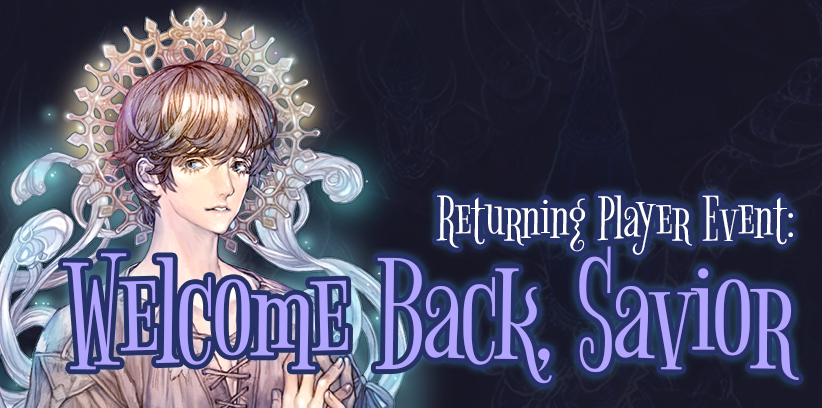 Welcome back, Saviors!

With this event, we want to show our appreciation for all the returning players who are back to continue their adventures in the world of TOS. Don't miss your chance at the daily rewards we have in store especially for you!
---

1. Event Period

FROM the scheduled maintenance on May 16, 2017
TO the scheduled maintenance on June 13, 2017

2. Who Can Participate

- Players who last logged into their TOS account before May 2017

3. How to Participate

STEP 1. Retrieve one 'Welcome Back Gift Box (15 Days)' from the Message Box at your in-game lodge and give it to one of your characters.

STEP 2. In-game, you can use the Gift Box from your inventory once per day to receive a daily reward, plus one prize of your choice.

STEP 3. You can receive rewards from the Welcome Back Gift Box a total of 10 times.

4. Rewards

A. Daily Reward (up to 10 times)

- Settlement Support Potion x3

B. Optional Rewards (choose one per day, up to 10 times)

- Instanced Dungeon Reset Voucher (14 Days) x2
- x8 EXP Tome (14 Days) x1
- Instanced Dungeon Multiply Token (14 Days) x3
- Earth Tower One Entry Voucher (14 Days) x1
- Saalus Mission One Entry Voucher (14 Days) x1

4. Important

- All reward items from this event are untradable and timed (they will expire within 14 days).
- Timed items will start counting down as soon as they are received in your inventory.
- After you have received all the rewards available or the items have expired, you will no longer be able to receive more rewards.