[CLOSED] First-Time Player Event: Steps to 100
By STAFF_Ines
Jun 13th, 2017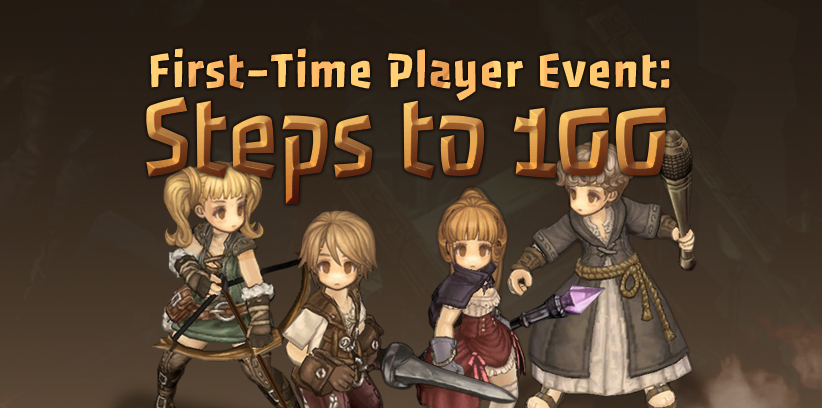 Greetings, Saviors!

We have a new event ready for all the players trying out TOS for the first time that will make the way to level 100 that much more rewarding. Reach all the level milestones and receive a set of character-boosting items for each!
---

1. Event Period

FROM the scheduled maintenance on May 16, 2017
TO the scheduled maintenance on June 13, 2017

2. Who Can Participate

- Players with teams created between May 9 and June 13, 2017

3. How to Participate

STEP 1. Download Tree of Savior and create your team (account) and a character in one of the regional servers. There are four server regions: North America (NA), Europe (EU), Southeast Asia (SEA) and South America (SA).

STEP 2. After you start playing with your character, interact with the Event Notice Board in the cities of Klaipeda or Orsha to receive one Boost Pack in your inventory.
- You can receive one Boost Pack per character created, on a maximum of 4 characters per team (account).

STEP 3. The Boost Pack will contain a level milestone that your character will need to reach in order to receive the corresponding rewards (see Boost Pack Rewards).
- There is a total of 7 milestones you can reach, with the top milestone at level 100.
- The Boost Pack will be deleted after the event period ends, so to collect all the rewards your character will need to reach level 100 before then.

4. Boost Pack Rewards

Reach the level milestones to receive the rewards!

NOTE: Items tagged as [TIMED - XX Days] have an expiration date and can only be used within the period mentioned in the item's description in-game, eg. if an item is marked as "30 Days", it must be used within 30 days after you acquire it. After those 30 days, the item will expire and you will no longer be able to use it. The counter will start to decrease as soon as you receive the item, so plan ahead carefully

- LEVEL 5 -

Lord Hamondale's Bracelet x1 [TIMED - 30 Days]
- An accessory that increases your character's stats.

Knight Commander Uska's Bangle x1 [TIMED - 30 Days]
- Another accessory that increases your character's stats.

Zemyna Necklace x1 [TIMED - 30 Days]
- Yet another accessory that increases your character's stats.

Settlement Support Potion Lv2 x10
- Move faster and hit harder for 30 minutes. Movement speed and physical/magic attack will be increased.

Fortune Cookie x5
- Fortune Cookies increase your EXP gains, movement speed and maximum HP, and you can stack them to multiply the effects.

- LEVEL 10 -

Velheider Voucher x1
- You can exchange this voucher for a Velheider companion at the Companion Trader in your nearest city.

x8 EXP Tome x1 [TIMED - 14 Days]
- EXP Tomes increase your experience gains, allowing you to level up faster.

Fortune Cookie x5

Klaipeda Warp Scroll x3
- An item that teleports you directly to Klaipeda, one of the main cities in Tree of Savior.

Orsha Warp Scroll x3
- An item that teleports you directly to Orsha, one of the main cities in Tree of Savior.

- LEVEL 15 -

x8 EXP Tome x2 [TIMED - 14 Days]

Settlement Support Potion Lv2 x10

Fortune Cookie x5

- LEVEL 30 -

Lv4 EXP Card x 10
- EXP Cards give you additional experience instantly to help you level up faster.

x8 EXP Tome x2 [TIMED - 14 Days]

Fortune Cookie x5

- LEVEL 50 -

Underground Chapel Dungeon Warp Scroll x1
- An item that teleports you directly to the entrance of the Underground Chapel Dungeon, which you can access starting from level 50.

x8 EXP Tome x3 [TIMED - 14 Days]

Keista Restoration Potion Lv 1 x20
- A potion to restore your HP and SP spent in combat.

Fortune Cookie x5

Lv 50 Weapons [TIMED - 30 Days]
- Try on different weapons fit for your character's level and class.

Goddess Sculpture x1 [TIMED - 14 Days]
- Recover more HP and SP and gain more EXP from your battles.

- LEVEL 80 -

x8 EXP Tome x4 [TIMED - 14 Days]

Historic Site Ruins Dungeon Warp Scroll x1

Instanced Dungeon Reset Voucher x1 [TIMED - 14 Days]
- Use this voucher to reset your daily instanced dungeon entries and play them again to boost up your character's EXP and currency gains.

Fortune Cookie x5

Goddess Sculpture x1 [TIMED - 14 Days]

- LEVEL 100 -

x8 EXP Tome x5 [TIMED - 14 Days]

Instanced Dungeon Reset Voucher x2 [TIMED - 14 Days]

Fortune Cookie x5

Fedimian Warp Scroll x1
- An item that teleports you directly to Fedimian, where a new city awaits you.

Goddess Sculpture x1 [TIMED - 14 Days]