New Event: New Year's Fortune
By STAFF_Ines
Dec 26th, 2016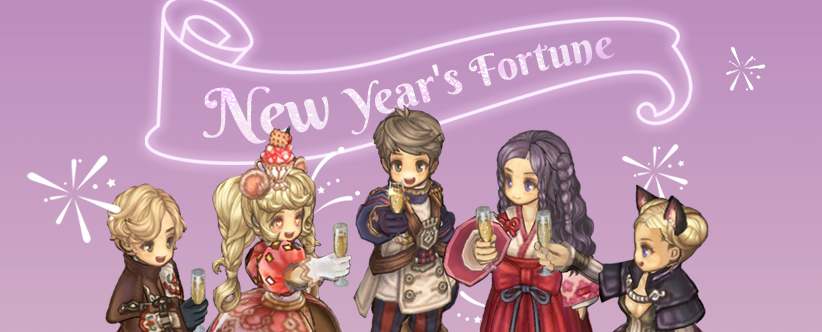 Greetings, Saviors!
The New Year is almost here and we're starting 2017 off on the right foot with a little help from some lucky Fortune Cookies. See the details below to find out how to participate in the event.
---
1. Event Period
- From: scheduled maintenance on December 27, 2016
- To: scheduled maintenance on January 17, 2017
2. How to Participate
- Defeat the final boss in any mission or instanced dungeon to receive a Fortune Cookie.
- Use the Fortune Cookie item from your inventory to receive its buff effects.
- Each Fortune Cookie will give you 30 minutes of +30% EXP gains and +1 movement speed.
- Receive different prizes according to the total number of Fortune Cookies used.
3. Fortune Cookie Prizes
- 10 Cookies used: Token: 7 Days x1
- 20 Cookies used: Settlement Support Potion x10
- 30 Cookies used: Old Enhancement Card x1
- 40 Cookies used: Superior Gem Abrasive (14 Days) x1
- 50 Cookies used: Silver Anvil (14 Days) x1
- 60 Cookies used: Penguin Hair Accessory x1
4. Important
- This event is open to characters of all levels.
- Fortune Cookie items are untradable.
- You can stack the effects of up to 5 Fortune Cookies.
- Each prize can be received a maximum of once per account.
- The number of Fortune Cookies used is calculated on a per-account basis.
- You will see the total number of Fortune Cookies used by your team appear every time one of your characters uses one.
- Prizes will be delivered directly to the inventory of the character that achieves the required Fortune Cookie use count (i.e. since used Cookies are counted on a per-team basis, whatever character in your team is the 10th to use a Fortune Cookie will receive the prize corresponding to 10 Cookies used, and so on). Keep this in mind when consuming the Fortune Cookies.
- Prizes with time limits will begin counting down as soon as they are received by your character.