Novice Pack DLC Coming to Steam
By STAFF_Ines
Aug 9th, 2016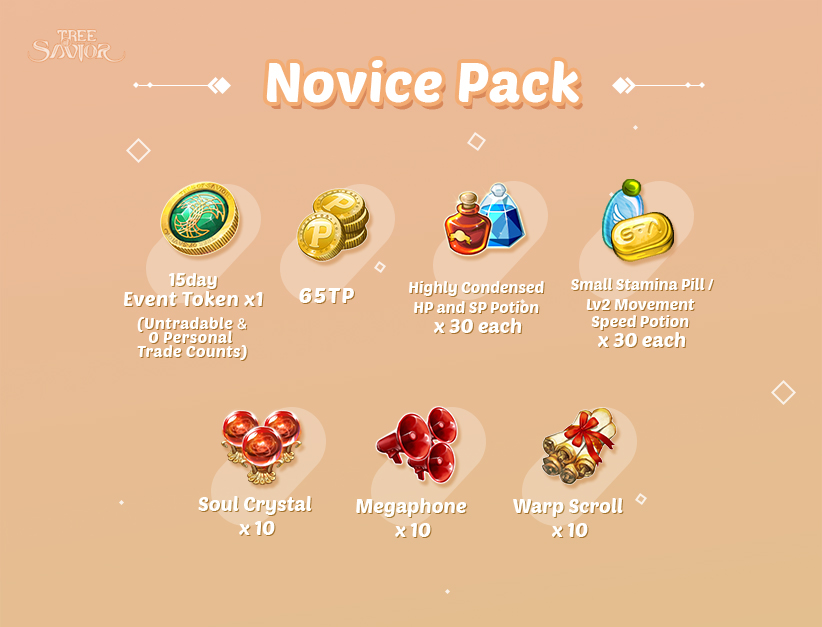 Greetings, Saviors!
The Novice Pack, a new DLC item bundle catered to first-time adventurers, will soon be released on Steam. The pack, expected to arrive as soon as it passes Valve's approval process, will remain available for purchase for those who wish to acquire it. See below for the contents of the Novice Pack DLC.
Novice Pack DLC Contents
- 15 Day Token x1 (untradable)
- 65 TP
- Highly Condensed HP & SP Potion x30
- Small Stamina Pills & Lv2 Movement Speed Potions x30
- Soul Crystal x10
- Megaphone x10
- Warp Scroll x10
IMPORTANT
1. The Novice Pack will be released as four different DLCs, one specific to each server region, being tagged as [NA], [EU], [SEA] or [SA] accordingly. DLC products are region-exclusive, meaning they can only be redeemed in servers of their corresponding region (e.g. Novice Packs tagged [SEA] or [SA] cannot be redeemed in Klaipeda, Orsha or Fedimian). Make sure to confirm your server region and carefully check the region tag of the DLC before you purchase.
2. Each DLC can only be purchased and redeemed once per Steam account. Accounts that have already purchased the Novice Pack will no longer be able to purchase this DLC for servers of the same region.
3. All DLC products are non-refundable once redeemed in the server.
4. In the event that the Novice Pack DLC is removed from Steam, we will provide due notice two weeks in advance via official announcement.