Upcoming Update: Episode 14-2 / New Raid
By STAFF_Brand
Jul 21st, 2022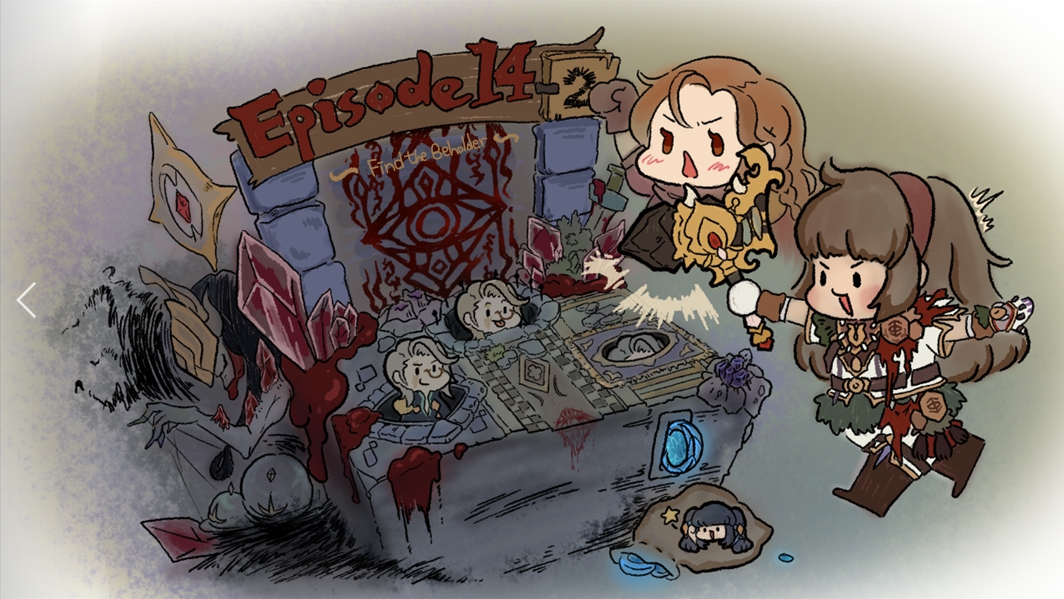 Hello, this is Tree of Savior Dev. team.
This posting is about a new episode, new content, and changing system.
---
Episode 14-2 and Level Expansion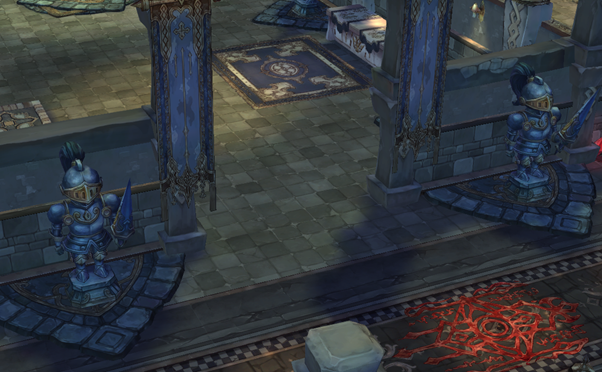 With the new episode, the maximum level of the character will be increased to 480.
The story will go on in Delmore Waiting Area, Hidden Passage, and Magic Association Assembly Hall (working titles).
The main goal of episode 14-2 is to find the hidden Beholder in the Delmore Waiting Area, Hidden Passage, and Magic Association Assembly Hall where you break through the Delmore Battlefield to stop him.
We need your power to stop his plans!
Start of Goddess Token (Vakarine) season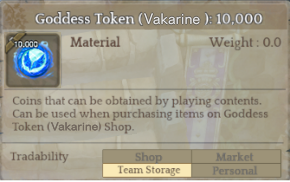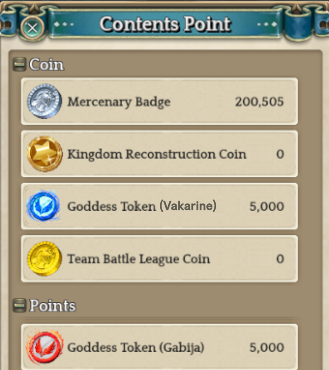 The Goddess Token (Gabija) season will be over, and the new Goddess Token (Vakarine) will begin with the new contents.
Goddess Token (Vakarine) will be used when enhancing the new equipment, and purchasing items in the Goddess Token (Vakarine) Shop.
Also, you will receive Goddess Token (Vakarine) from new contents.
Goddess Token (Gabija) will still be used for current systems. (Crafting Vasilisa equipment and Isidavie Accessory).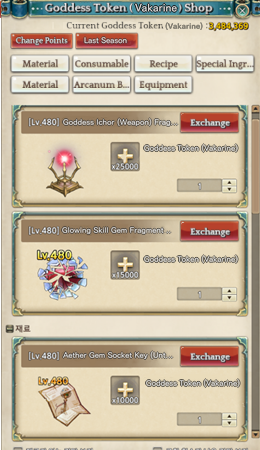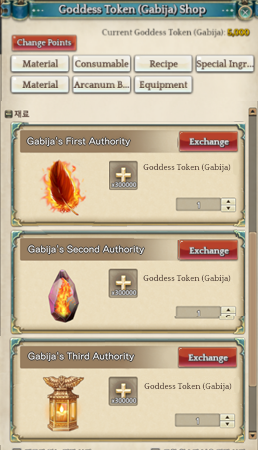 Token of Goddess (Gabija) x1 can be purchased with Token of Goddess (Vakarine) x1.
Thus, you can purchase the Gabija's Authority with the Token of Goddess (Vakarine) if you exchange it for the Token of Goddess (Gabija).
However, please be noted that this may change when applying it to the live server since it is in the developing stage.
Goddess: Turbulent Core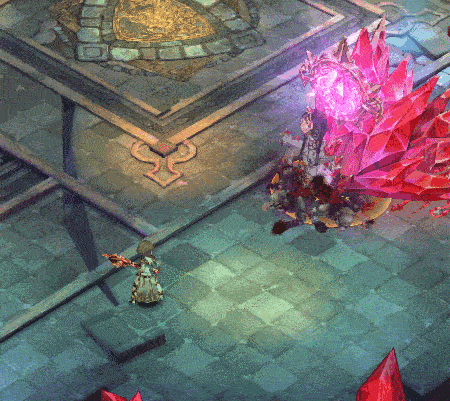 Goddess: Turbulent Core where you can meet the boss of episode 14-2 and receive new equipment will be added. This episode includes 3 boss raids and you'll first meet the Corruption Spreader (working title).
The update date for the following contents is yet fixed.
▶ Corruption Spreader Solo/Auto, Corruption Spreader (Hard), Falouros Solo/Auto, Falouros (Hard), New raid
You can receive Lv.480 weapon in Corruption Spreader, Lv.480 Armor in Falouros, and a new type of item in the third new raid.
Lv 480 New Equipment System
Like the previous Vasilisa items, new gear starts with succession. When succeeding a Vasilisa's equipment, you can immediately acquire the Weapon/Armor of the Corrupted (working title) and 50% of the existing enhancement value (decimal point rounded off) will be succeeded.
However, the armor will not be able to be enhanced until the next raid is added.
There will be a change in the equipment crafting system.
Category

System

Remaining System

Enhancement


Stat Engraving
Fixed Ichor
Socket


Appearance Change (weapon only

)




Evolve

(

weapon only

)

Deleting System

Transcendence




Enchant




Awakening




Set Stat

New System

Goddess Ichor (Random Stat)
There will be no change in Enhance system for equipment and Fixed Ichor, Gem Socket, Engraving Stat, and Applying Stat system will remain.
Appearance Change system and Evolove system that were applied only to the weapon will also remain.
However, you can craft the equipment with Lv.460 as usual.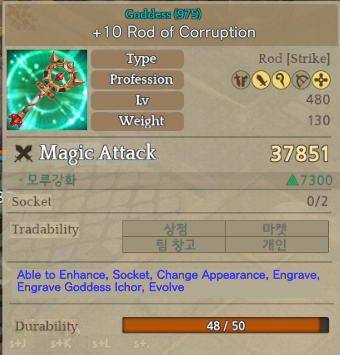 Like the Isidavie accessory, the transcendence system will disappear from weapons and armor, and the Blessed Shards will be used when enhancing the equipment. In addition, system of Enchant, Awakening, and Set stat will also disappear. It has a higher main stat than before in line with the season update and disappearing stats.
The Random Stat system will change. Vasilisa was able to use after having a random stat attached to the equipment, setting the option through Magnifier, and then engraving it. But from the update, you can upgrade the random stat by engraving with the new item, Goddess Ichor, which can be acquired by gameplay.
Random stat saved via the existing Magnifier can be applied to the new equipment as well.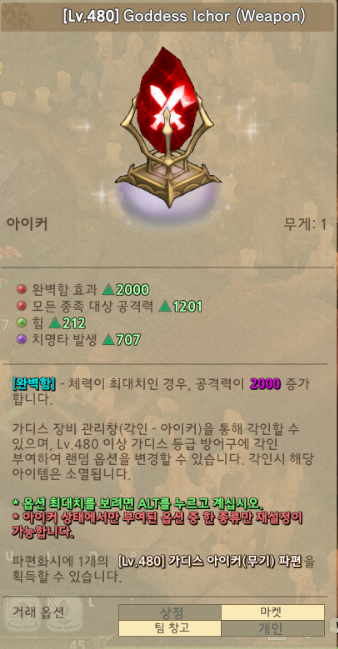 Goddess Ichor can be received by low chance when hunting in the field or from the Challenge mode, or so.
It has a higher value of stat than the existing random stat, and it can re-identify the stat of a limited number just like the Belts without the Magnifier.
Additional / Adjusting System
Flexible Party System
Monster's HP will be set variably in proportion to the number of members.
| | |
| --- | --- |
| Number of party members | Monster's HP |
| 5 | 100% |
| 4 | 88% |
| 3 | 69% |
HP adjustment will be applied to the Challenge Mode (Auto), Division Singularity (Auto Match), and Goddess Raid: Turbulent Core.
Share the Lottery Reward
For Silver Chest that you can receive when clearing the raid and lottery reward by low chance, the same amount will be given to all of the party members. (Not given as a box but will be given as silver when clearing)
Lottery reward will also be obtained by low chance in Res Sacrae Raid and Demonic Sanctuary.
Challenge Free Mode
Challenge Free Mode, which you can play without entry count will be added. It matches with the existing Challenge Auto Match, and only 20% of the fixed seasonal coins can be received. However, Contents Point and Lottery Silver Chest can be received equally.
Contents with Level Expansion
The difficulty of non-seasonal contents such as Challenge mode, Division Singularity, Remnants of Bernice Dungeon, Weekly Boss Raid, Joint Strike Raid, and Blockade Battle will be adjusted.
Field Boss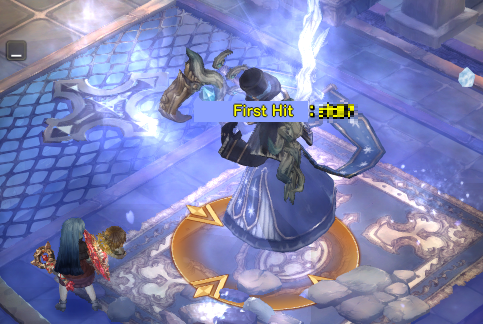 A field boss that allows you to acquire rare costumes and season coins through field exploration rather than equipment ability competition will be added.
3 to 5 monsters will be spawned in a random field for at least 2 hours cycles, and the savior who first hit the boss will have the right to have the dropped items.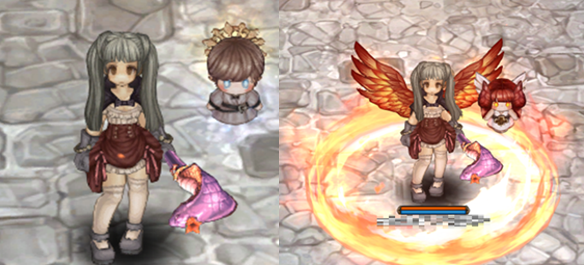 When you defeat the boss, you can get an appearance item with a high rarity by low chance along with the Season Coin.
However, unlike items obtained from the Goddess' Blessed Cube, it'll be bound to the team.
Hunting in the Field
From episode 14-2, field monsters are very powerful, and you'll be able to get better items as a reward.
The first floor of the Hunting ground will be removed, and you can get season coins and various seasonal items by hunting in the field.
In addition, if you get lucky, you can get high-value Goddess Ichor as well as Evolution Stones.
Others
Bounty Hunt will be updated to Lv.480 and will defeat more powerful wanted monsters.
Fedimian Public House, Goddess' Grace (Offering), Blockade Battle, and Weekly Boss Raid rewards will be renewed and items for the Achievement Shop will be added.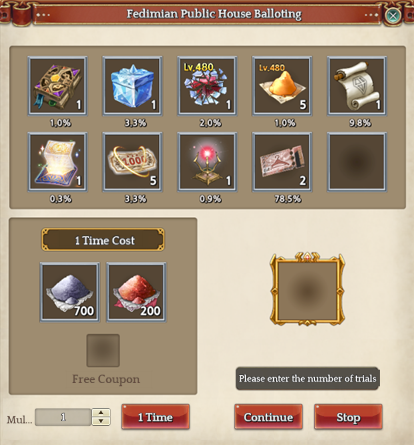 We are planning for the update around October. However, the schedule and details are subject to change and some of the contents may be updated sequentially.
Thank you.