[FREE] Second Anniversary Present DLC Coming to Steam! (Mar 27)
By STAFF_Ethan
Mar 19th, 2018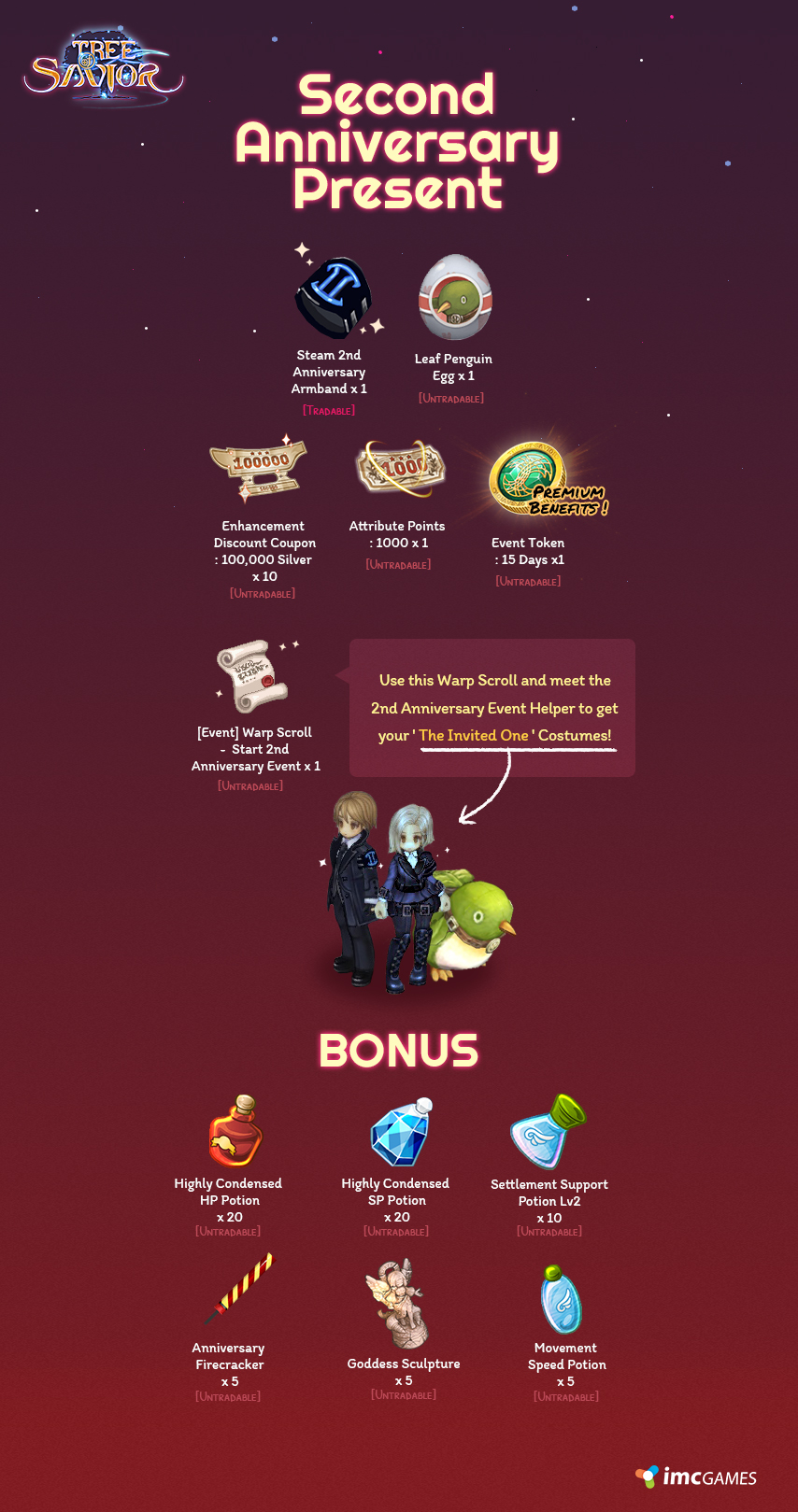 Greetings, Saviors!
In honor of TOS' second anniversary on Steam (celebrated on March 29!), we've prepared some gifts in the form of the 'TOS - Second Anniversary Present' DLC! (Link to Store Page: http://store.steampowered.com//app/474804)
The DLC will be available at our Steam Store from March 27, 2018. Please note that it will be removed later on so make sure you don't miss out on this opportunity!
Check the details down below to see what we have in store for you!
[TOS - Second Anniversary Present DLC Contents]
- 1 x Token (15 Days) (Untradable) - Receive premium benefits for 15 days!
- 1 x Leaf Penguin Egg (Untradable) - Get your very own adorable Leaf Penguin Companion to travel with!
- 1 x Steam 2nd Anniversary Armband - Show your support with this fashionable armband!
- 1 x Attribute Points 1,000 Ticket (Untradable) - Hit harder with your skills after investing attribute points!
- 10 x Enhancement Discount Coupon: 100,000 Silver (Untradable) - Save silver while enhancing your gear with these Coupons!
- 1 x [Event] Warp Scroll - Start 2nd Anniversary Event (Untradable) - Go to the Event Helper NPC to get 2 costumes and start the 2nd Anniversary Event with this special Warp Scroll!
- 20 x Highly Condensed HP & SP potions (Untradable)
- 10 x Lv2 Settlement Support Potions (Untradable)
- 5 x Highly Condensed Movement Speed Potions (Untradable)
- 5 x Goddess Sculptures (Untradable)
- 5 x Second Anniversary Firecrackers (Untradable)
[Information on the Second Anniversary Present Items]
1. The items will be sent to your in-game message box via GM message that will be accessible after Team creation. You may choose which character you wish to give the items to from the GM message.
2. You may only receive the items on one server so please choose carefully.
3. There will be no time limit on when you can redeem your items. You may decide to receive them at the time of your choice.
4. The Steam 2nd Anniversary Armband cannot be obtained in-game. It may be obtainable in the future through other products or events.
5. Token benefits cannot be paused/restarted once the Token is used. Please make sure you wish to receive the benefits before using Tokens.
6. Using a new Token will cause it to overwrite the benefits of existing Tokens. Please be careful when using Tokens.