[CLOSED] Sidekick Booster (Sep '17)
By STAFF_Ines
Oct 11th, 2017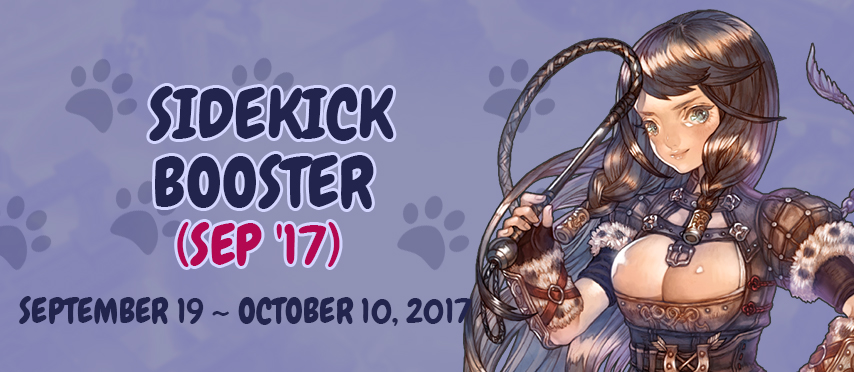 Greetings, Saviors!

It's time to bring out your loving Companions one more time for the Sidekick Booster event! Travel and battle with your trusty sidekick for up to 10 rewards a day, plus a sweet EXP boost!

---

Event Period

FROM the scheduled maintenance on September 19, 2017
TO the scheduled maintenance on October 10, 2017

Who Can Participate

- All characters with by a companion of level 50 or higher

How to Participate

STEP 1. Associate a Companion to one of your characters and activate it. Every time your Companion consumes some of its Stamina, you have a chance of obtaining one of 6 different gifts!
- The gifts drop randomly, and you can win up to 10 per day, per team.

STEP 2. Any character battling with a Companion will also receive an extra +20% of EXP gains during the event period!

Rewards

Receive one item every time your Companion consumes its Stamina!

- Keista Protective Potion
- Keistas Bravery Potion
- Fortune Cookie
- Advanced Gem Abrasive (14 Days)
- Instanced Dungeon One Entry Voucher (14 Days)
- Instanced Dungeon Multiply Token (14 Days)

Important

- The effects of this event will only apply to non-Hawk Companions of level 50 or higher.
- Event reward items are untradeable.
- Companions with 0 Stamina will not drop reward items.