[CLOSED] Ways of the Pirates
By STAFF_Ines
Jul 20th, 2017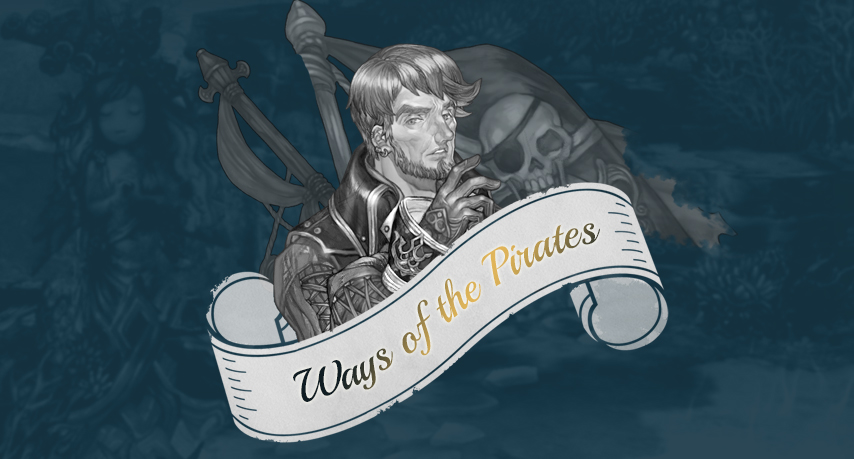 Greetings, Saviors!

Hayraven, the Corsair Master, is looking to rebuild his pirate ship that was destroyed during Medzio Diena in order to prepare for his triumphant return to the sea. Deliver Wood Boards for the ship and exchange them for loot to become one of the pirates!

---

Event Period

FROM the scheduled maintenance on June 27, 2017
TO the scheduled maintenance on July 18, 2017

Who Can Participate

- Characters of all levels

How to Participate

STEP 1. Go to the city of Klaipeda and talk to a Pirate NPC to find out what Hayraven's crew is up to and volunteer to help.

STEP 2. After talking to the pirates, find Blacksmith Zaras in Klaipeda to request Wood Boards for the pirates' ship. Wait one hour after your request and receive 10 boards from Zaras. You can ask the blacksmith to give you fewer boards sooner, but he can only give you one batch of boards per day (per team).
- Time is counted on a per-team basis, and you can receive the boards on a different character.
- Wood Boards can be moved via your Team Storage.
- Use the '/Hayraven' command in-game to check how much time has passed.
- You cannot request for more boards until you pick up the ones you already requested.
- You must be logged into the game with a character in order for time to count.

STEP 3. Bring the finished Wood Boards to the pirate crew and exchange the boards for rewards.
- To obtain each reward, you must deliver the corresponding number of Wood Boards in a single transaction (for example, to receive the pirate costume, you will need to have 100 Wood Boards in your inventory).
10 boards = Lv15 Basic Condensed HP Potion x10 OR Lv15 Basic Condensed SP Potion x10
20 boards = Pirate Potion x1 (+5 movement speed for 1 hour)
30 boards = Enchant Scroll (14 Days) x1 OR EXP Tome (14 Days) x1
100 boards = Shark Pirate Costume (Male/Female) x1

STEP 4. Receive a total of 180 Wood Boards from Blacksmith Zaras to obtain the title of 'Honorary Pirate'.
- The title will automatically be sent to the character that receives the 180th Wood Board from Zaras (the total amount of boards is counted on a per-team basis).

Important

- Wood Board items and the Pirate NPCs will be deleted on July 25, 2017.
- Pirate Potion items will be deleted on August 1, 2017.
- The Enchant Scroll (14 Days) and EXP Tome (14 Days) rewards can be obtained up to 5 times per character. These items are untradable and character-bound.
- The Shark Pirate Costume (Male/Female) will match the gender of the character that receives it as a reward.