Adventure Journal
Category
NEW Adventure Journal

- All character-bound Adventure Journal data is now shared with the entire team.
- UI updated to display points per category and nearby rankings on the main page.
- Detailed point info and Adventure Journal, TBL and Uphill Defense rankings are displayed in the corresponding tabs on either side of the Journal.
- Monster, item, crafting, life and mission/dungeon-related data is now reset every month.
- Data related to growth and exploration does not reset.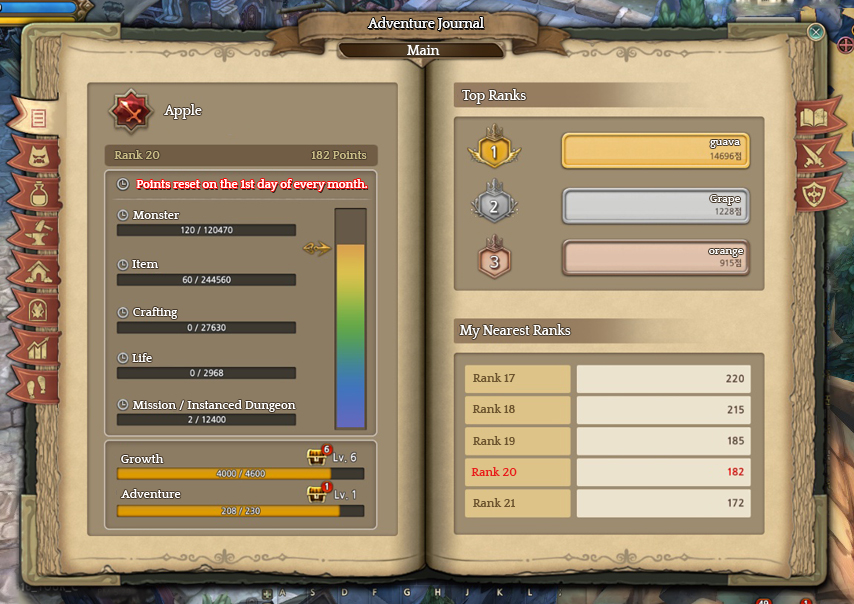 [1. Monsters]
- Points accumulate every time you defeat a certain amount of regular or boss monsters.
- Monster hunting in the Journal is divided into stages, with each stage representing a new hunting goal (no. of monsters defeated).
- The Monster tab includes info on monster types, properties, defense types, dropped items, etc.
- You can search for item names or regions in the search bar to look up monsters.

[2. Items]
- Item-related points are accumulated the same way as monster-related points.
- You can use the search function to look up items by type.
- Event items are not included in the Adventure Journal.

[3. Crafting]
- Crafting items contributes to your Adventure Journal points.
- Crafting an item listed in the Journal automatically registers that item. The corresponding points are earned only once per item.

[4. Life]
- Life content is divided into Shops and Fishing.
- Shop points are earned through Weapon Maintenance, Armor Maintenance, Repair, Appraiser, Spell Shop, Switch Gender, Gem Roasting and Enchant Armor.
- Fishing points are earned only when you catch fish.

[5. Dungeons]
- Points are earned by completing Instanced Dungeons, Mercenary Post missions, Saalus Convent missions, Fantasy Library, Earth Tower and Uphill Defense.

[6. Growth]
- Displays info about your characters and companions.
- The right side shows your characters' classes. Hover the cursor on a class to display related information.
- The points you earn depend on your team level, with +50 points awarded once per each class.
- If a character is deleted, the corresponding classes are subtracted from your Adventure Journal data and points.

[7. Exploration]
- Shows overall degree of map exploration and points earned from it.
- Displays quests available in each map. You can click on a quest to see which characters have completed it.
- The right page displays up to 5 achievements (starting from the most recent), which also earn you Journal points.
- Collections and their corresponding items earn you additional points.
NEW Adventure Journal Rewards

- Monthly rewards are sent on the first day of every month according to the ranking. These include different titles for players ranking no. 1 in exploration and item consumption.
- Growth and exploration prizes are awarded according to a level system. Receive them at a Wings of Vaivora NPC.
- You can trade Companion Voucher x20 obtained from Journal rewards for a Baby Pig companion.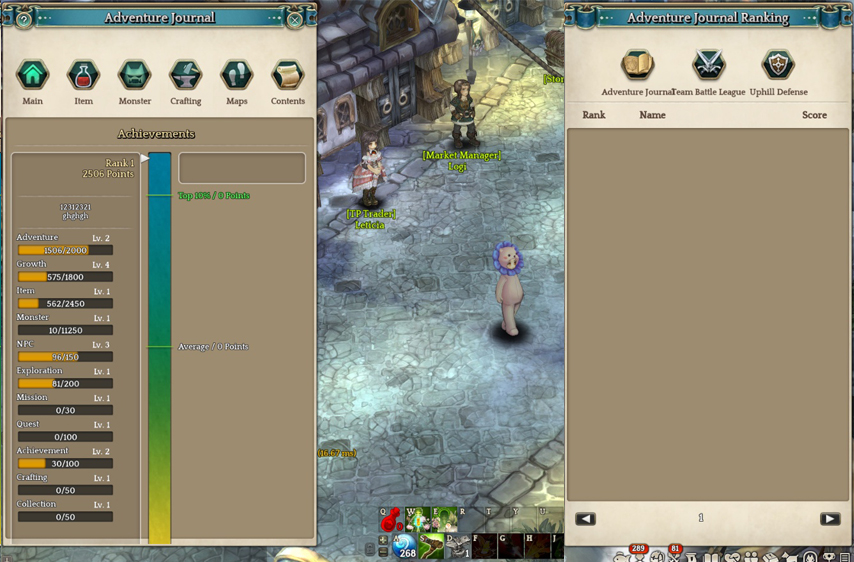 Ranking Rewards

- Rank 1 to 10
Companion Voucher x12500,000 SilverEXP Tome Lv.4 x3Instanced Dungeon Multiply Token x3Attribute Points: 1,000 x2
- Rank 11 to 100
Companion Voucher x7300,000 SilverEXP Tome Lv.4 x3Instanced Dungeon Multiply Token x3Attribute Points: 1,000 x1
- Rank 101 to 200
Companion Voucher x5200,000 SilverEXP Tome Lv.4 x2Instanced Dungeon Multiply Token x2Attribute Points: 500 x1
- Rank 201 to 300
Companion Voucher x4100,000 SilverEXP Tome Lv.4 x1Attribute Points: 300 x1
Growth Rewards

Lv 1: Soul Crystal x10, Warp Scroll x5
Lv 2: EXP Tome x3, Token: 7 Days x1
Lv 3: Attribute Points: 100 x1
Lv 4: Instanced Dungeon Multiply Token x2
Lv 5: Skill Reset Potion x1
Lv 6: Explorer's Red Flower Headgear x1, Enchant Scroll x3
Lv 7: Skill Reset Potion x1
Lv 8: Team Storage Expansion Voucher (+1) x1
Lv 9: Enchant Scroll x10
Lv 10: Attribute Points: 500 x1
Lv 11: Stat Reset Potion x1
Lv 12: Enhance Coupon: 100,000 Silver x10
Lv 13: Rank Reset Voucher x1, Title: Steady Savior
Lv 14: Attribute Points: 1,000 x1
Lv 15: Team Storage Expansion Voucher (+2) x1
Lv 16: Enhance Coupon: 100,000 Silver x15
Lv 17: Title: Sturdy Savior
Exploration Rewards
Lv 1: Warp Scroll x10
Lv 2: Soul Crystal x10
Lv 3: Goddess Sculpture x3
Lv 4: Miracle Seeds x5
Lv 5: Instanced Dungeon Multiply Token x2
Lv 6: Token: 7 Days x1
Lv 7: Attribute Points: 100 x2
Lv 8: Superior Gem Abrasive x5
Lv 9: Team Storage Expansion Voucher (+1) x1
Lv 10: Enhance Coupon: 100,000 Silver x5
Lv 11: Golden Anvil x1
Lv 12: Attribute Points: 500 x1
Lv 13: Team Storage Expansion Voucher (+1) x1
Lv 14: Attribute Points: 1,000 x1
Lv 15: Team Storage Expansion Voucher (+1) x1, Golden Anvil x1
Lv 16: Enhance Coupon: 100,000 Silver x10
Lv 17: Explorer's Rosa Rugosa x1, Title: Journal Recordist
Lv 18: Golden Anvil x1, Team Storage Expansion Voucher (+1) x1
Lv 19: Attribute Points: 1,000 x2, Bamboo Fishing Rod x1
Lv 20: Explorer's Fedora x1, Title: Outstanding Recordist